You can utilize tools from four Checkaso sections: Analysis, ASOindex, ASO Editor, and Notification Center. This article includes only a brief overview of those tools. You can find detailed guides in the article contents or use links in this post.
Analysis
ASO Overview is a Checkaso section with 9 tools. Search Visibility Index, an option to compare with that of your competitors, percentage, and number of overlapping keywords, number of keywords by app positions, tracked keywords movements, tables with 'best' and 'worst' keywords in terms of ranking, metadata tracking, and rating changes.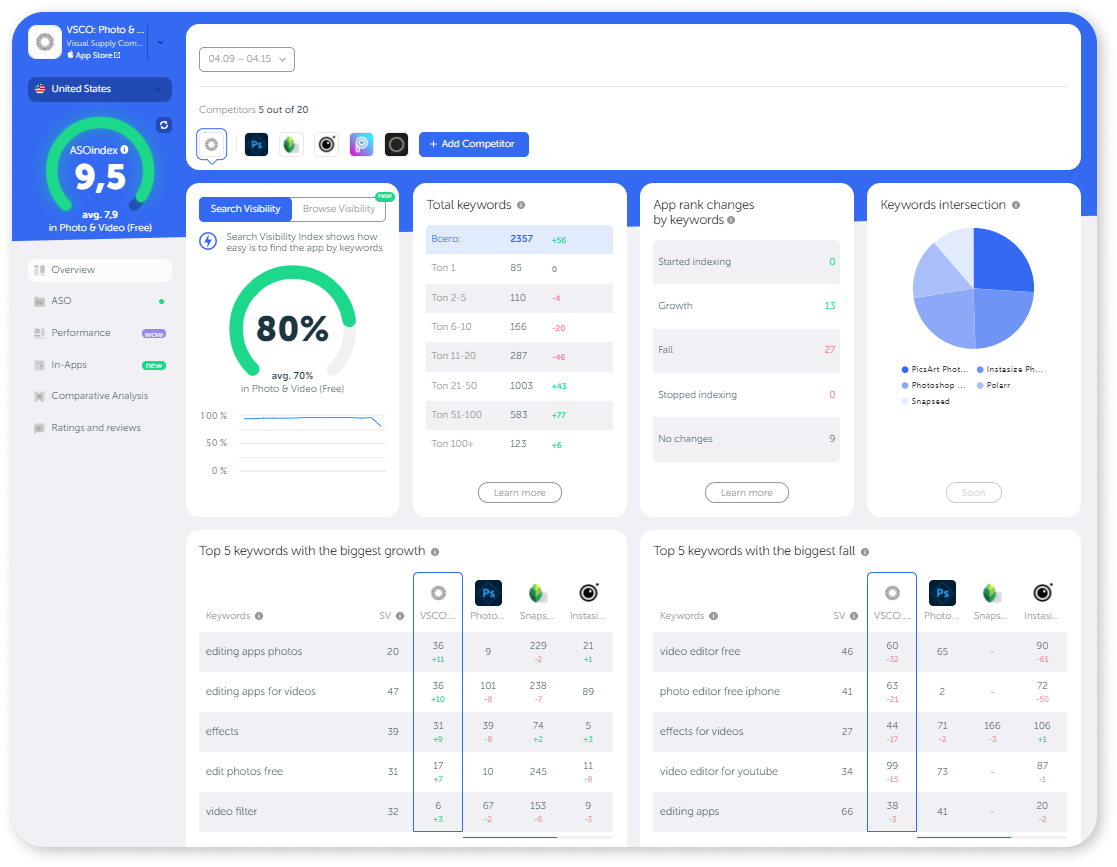 → Read more about this in our article What is ASO Overview?
The ASO subsection includes tools for keywords. In the Keywords Analysis tab, you can use an initial list of 50 keywords and add keywords manually. Statistics details are available in the same window.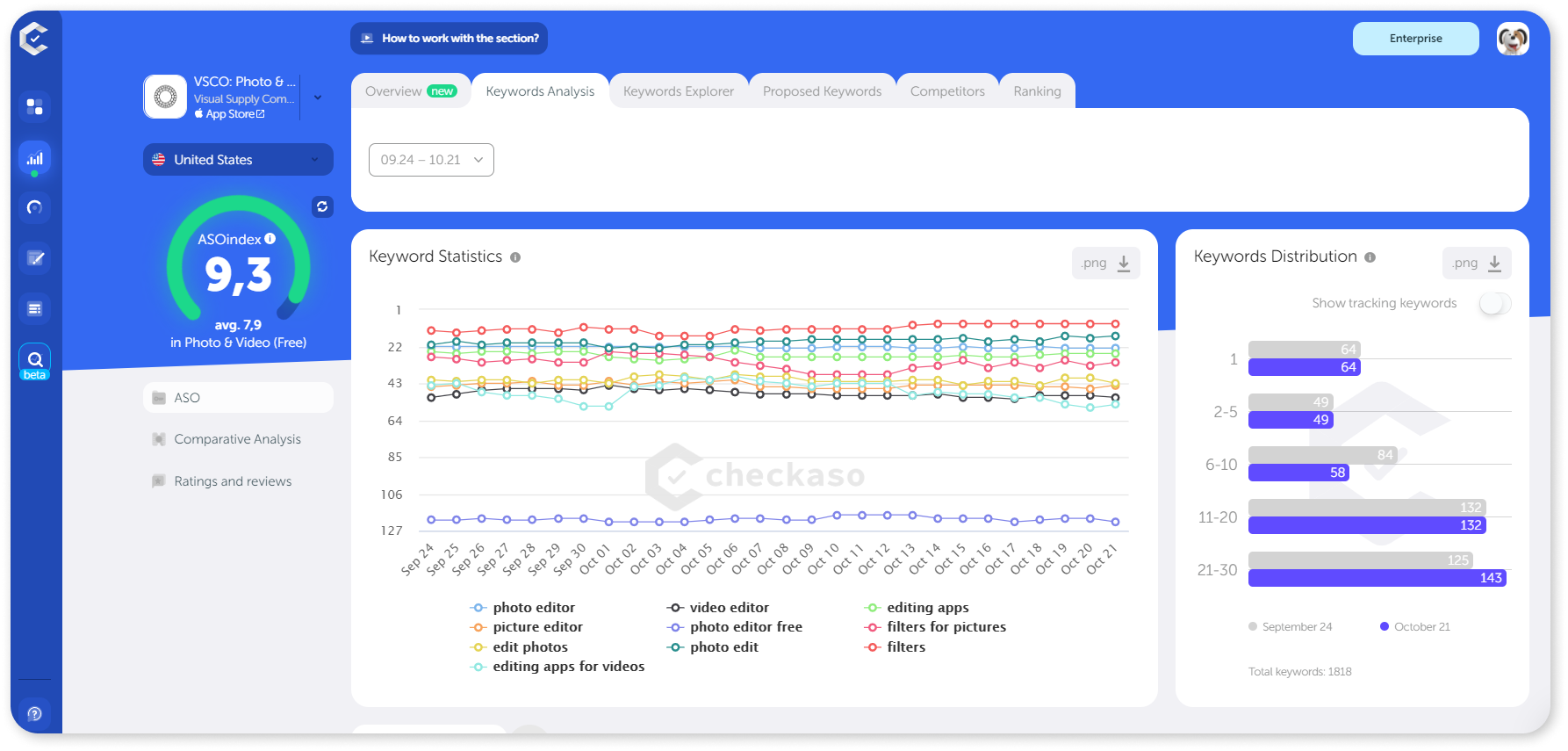 In Keywords Explorer, you can find Search Volume (popularity indicator), Impressions (average number of impressions), and app ranking by keyword. It is now easier to prioritize keywords for ASO iterations. You can find the keywords manually using the search string at the top of the suggests table. Keyword filtering got more options and became more detailed.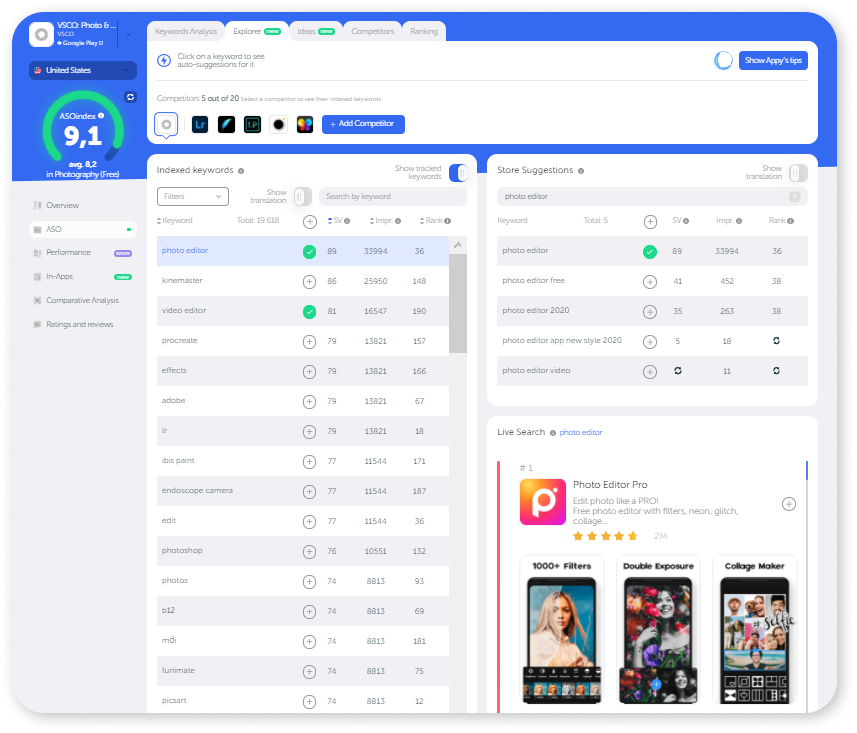 → You can find a detailed guide in our article How to Add Keywords
Competitors tab makes it convenient to study search results by keywords of interest.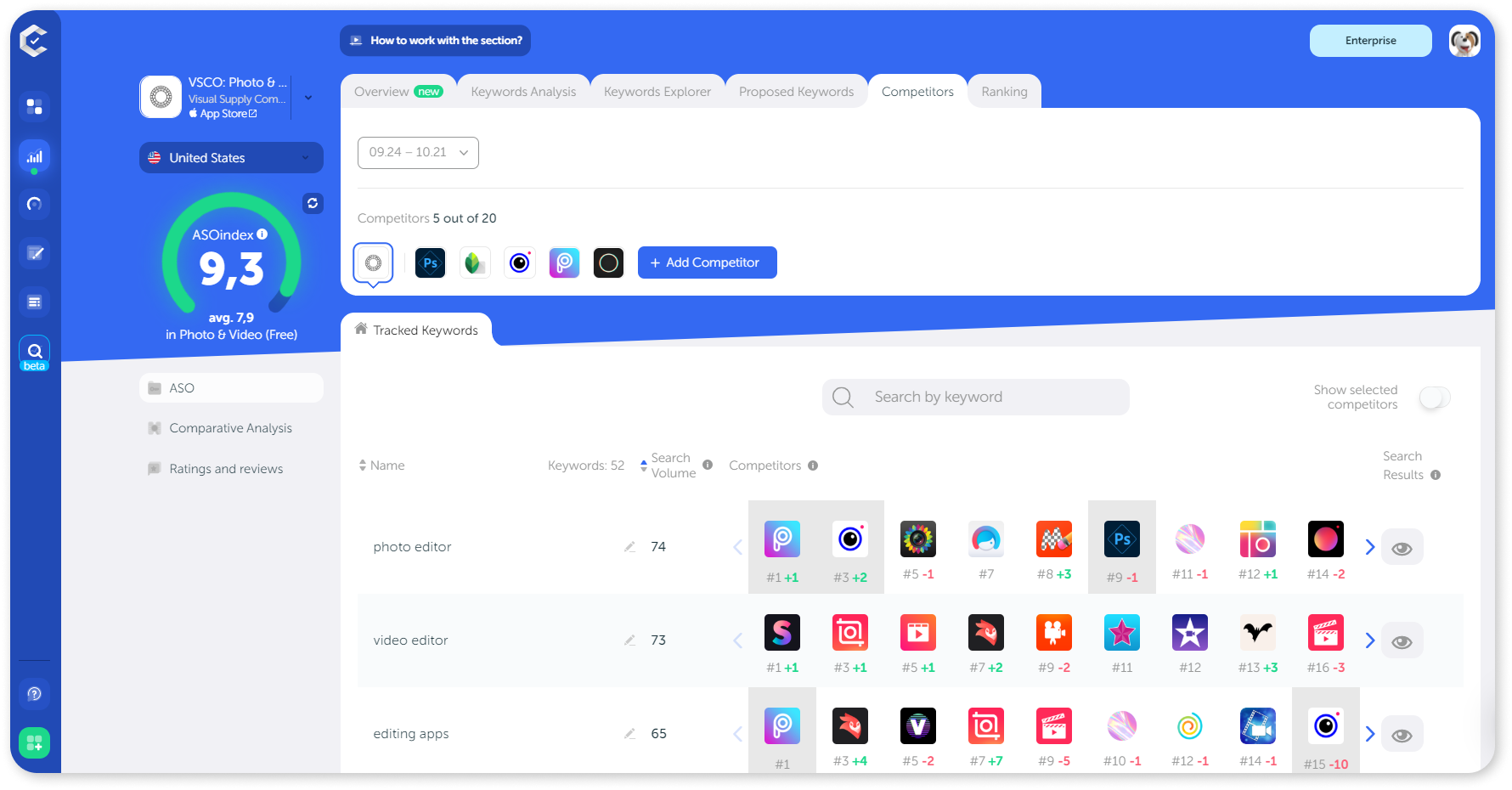 Ranking helps to track the dynamics of change in your ranking by certain keywords.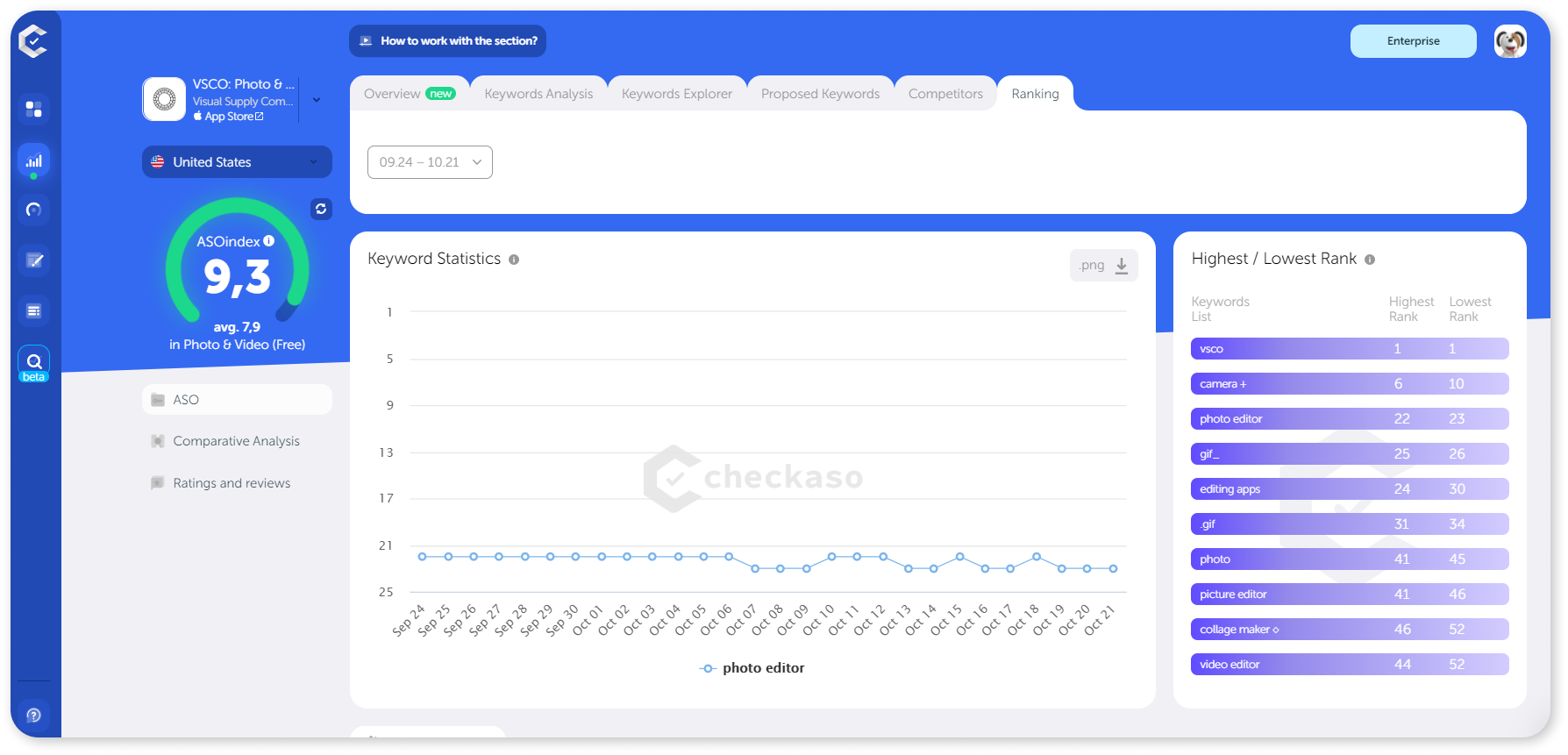 Performance section helps you assess how efficiently you get traffic in different countries and keep everything under control, from search optimization to app localization.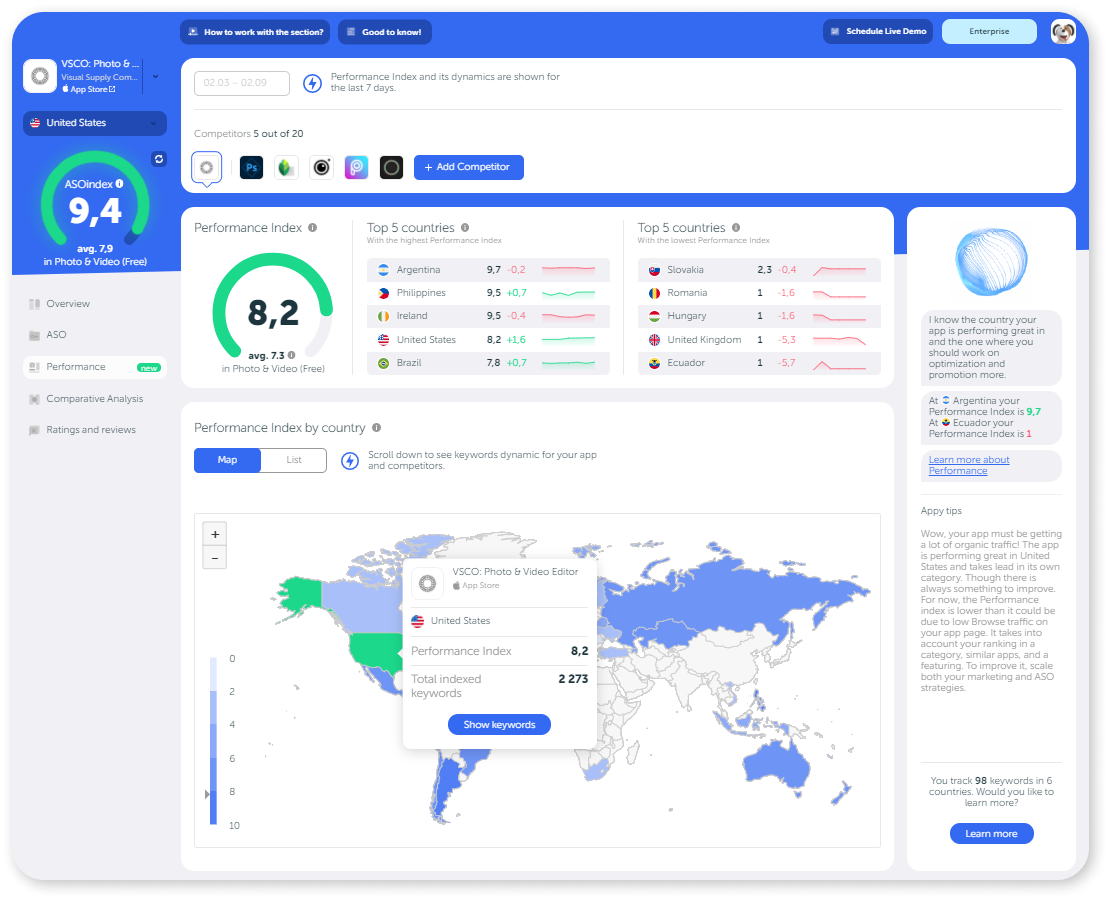 → Find out more about this section in our article What is Keywords Performance
In the In-Apps section, analyze all promoted in-app purchases of any app. Track which words and how high the IAP (In-App Purchase) ranks, as well as study the history of changes in the purchase prices of competitors. Monitor the search results of all purchases for all keywords.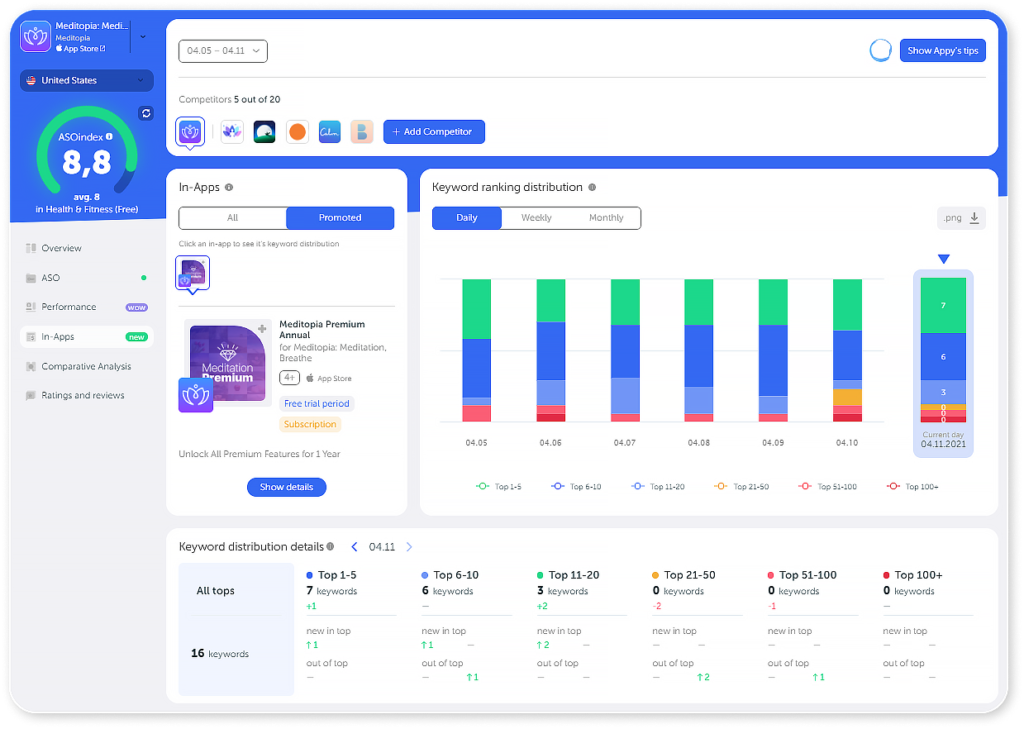 → Check our guide for the perfect work with In-Apps
The Comparative Analysis subsection makes it possible to compare two apps in a single window. You can compare the metadata of a single app there as well. Filters are available by date, app version, and device (for screenshots).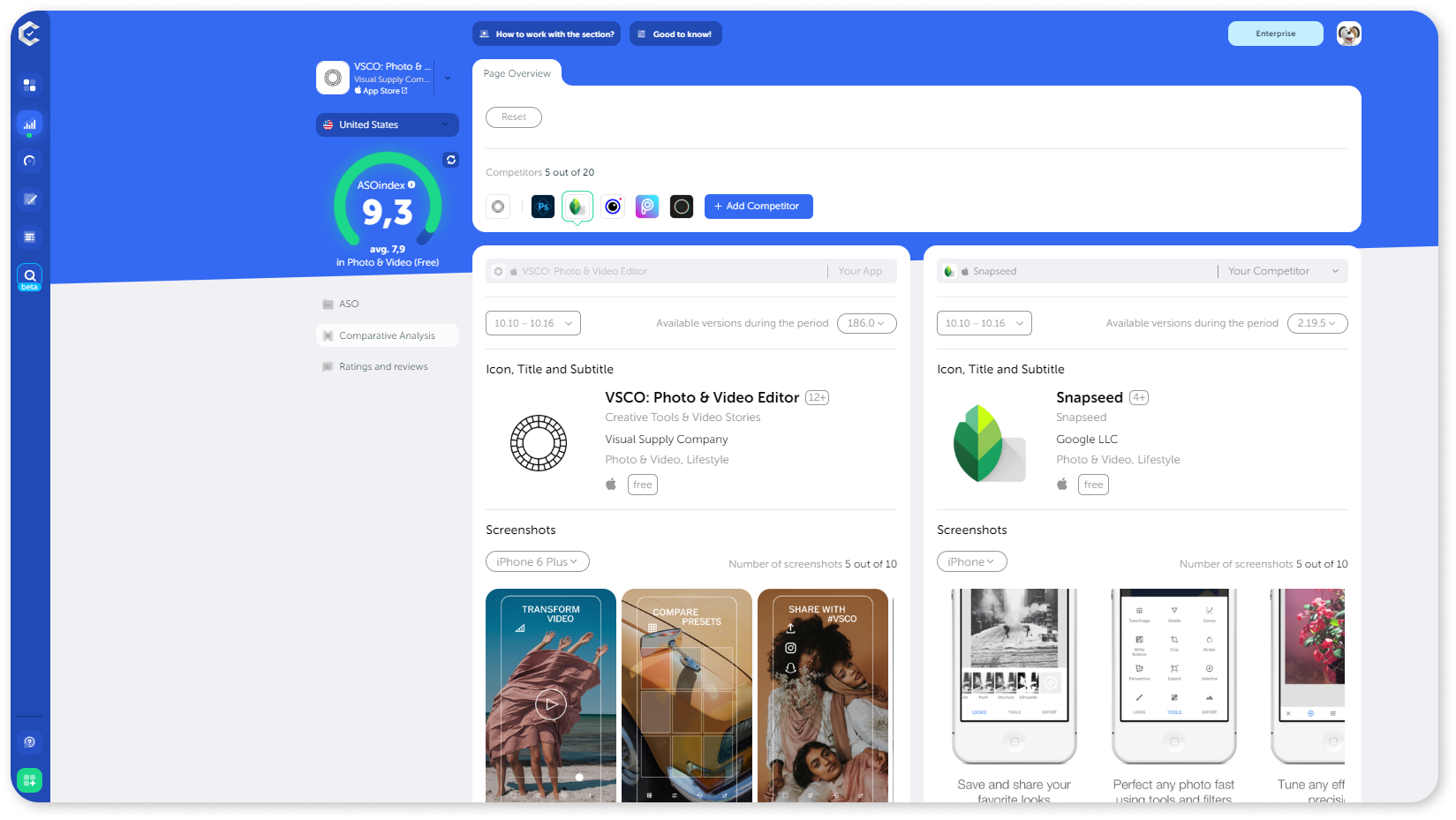 → You can find a detailed guide in our article How to make a comparative analysis
In the Rating and Reviews subsection, you can analyze the rating by studying detailed statistics of change and compare different periods and app versions. In the Reviews tab, you can search for reviews by words and use filters. You can sort items by app version, rating, review response, if any, or by change.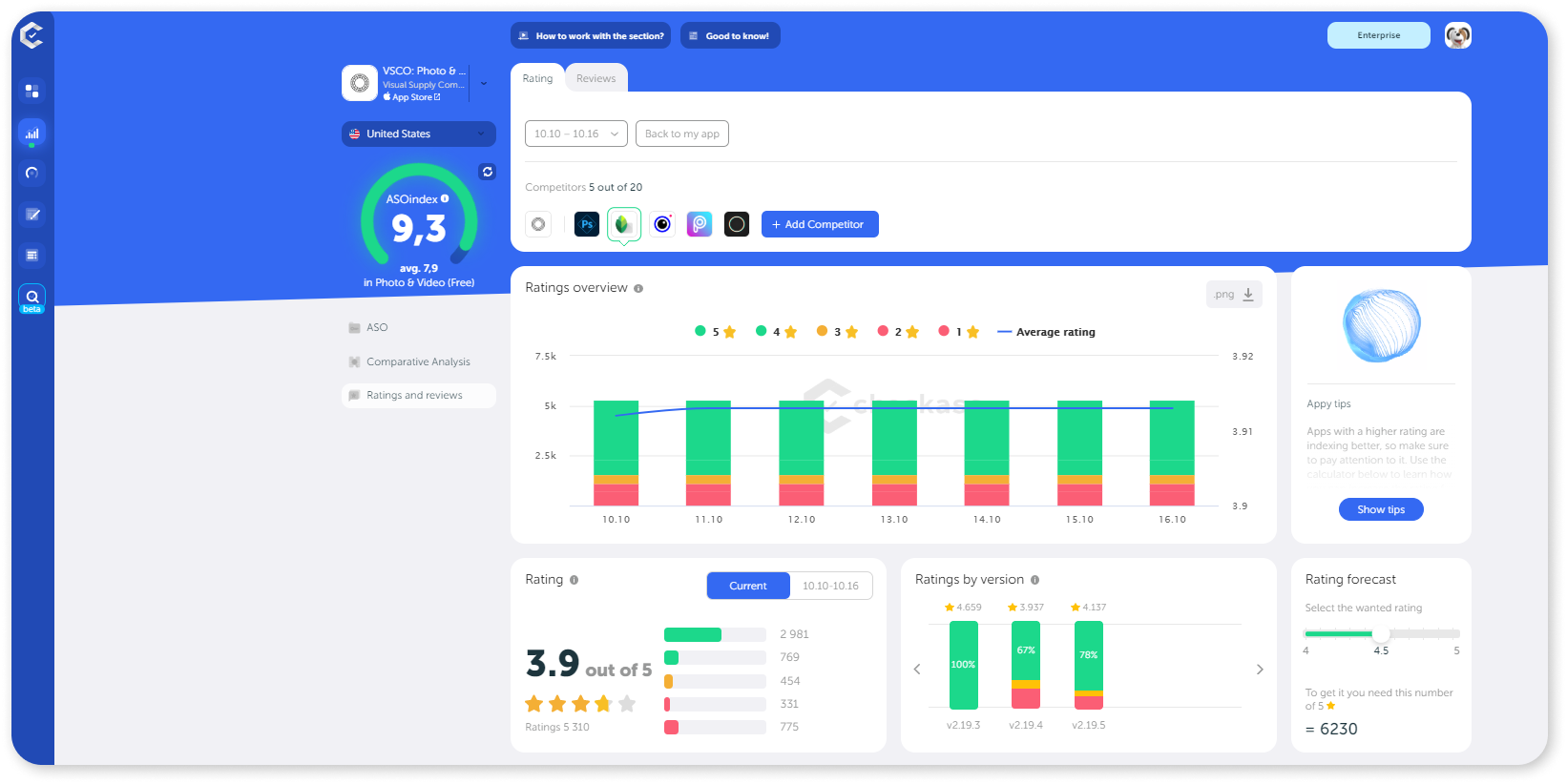 → For a detailed guide on how to work with ratings and reviews, read our article Rating and Reviews
ASOindex
ASOindex Overview is the major tool in this section. It makes it possible for you to assess all general parameters that influence ASOindex (as it's a general indicator of optimization quality).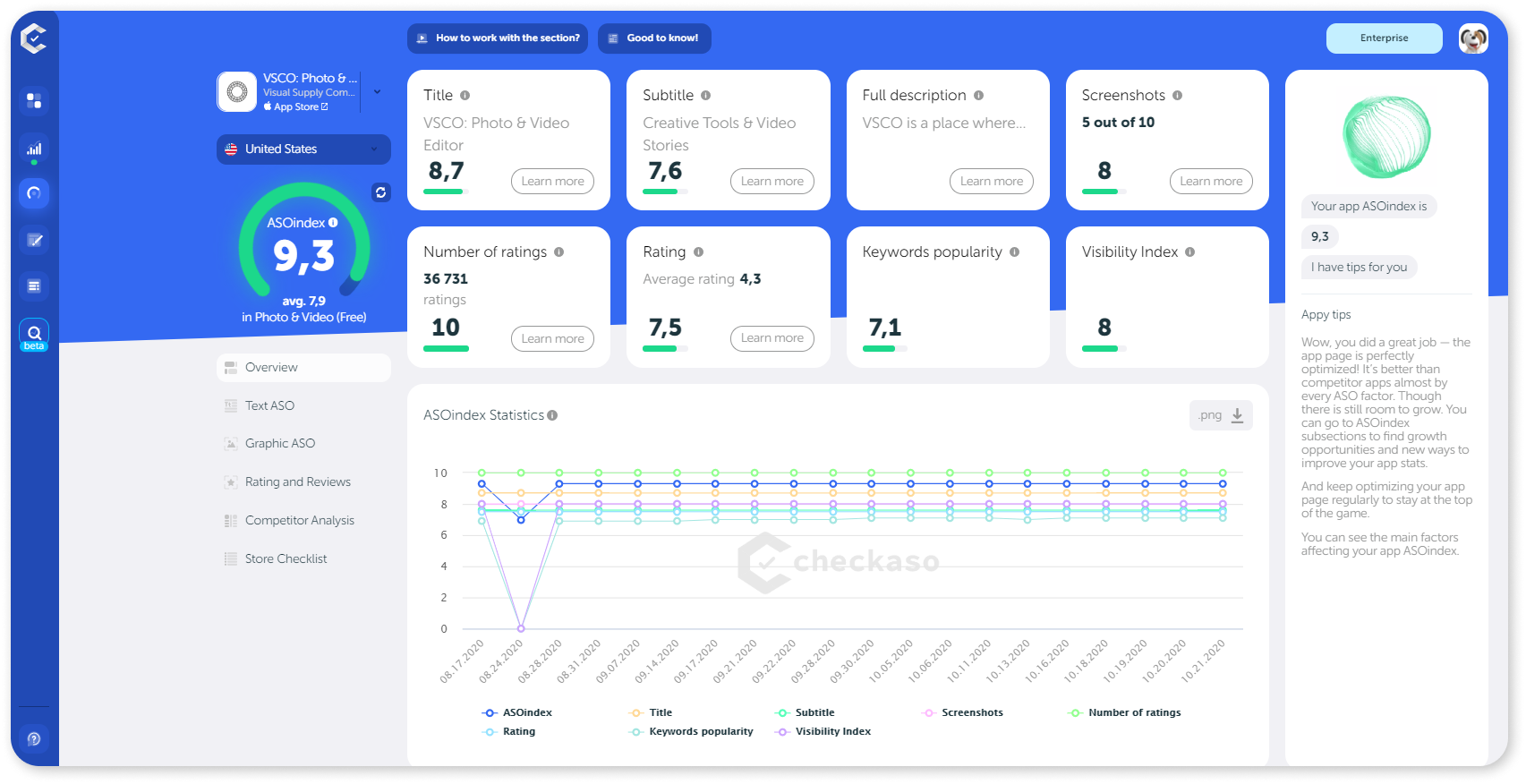 On the map, you can explore the ASOindex Overview of apps in various locales. The data is available as a list that can be filtered by region and other extra parameters like general ASOindex or visibility.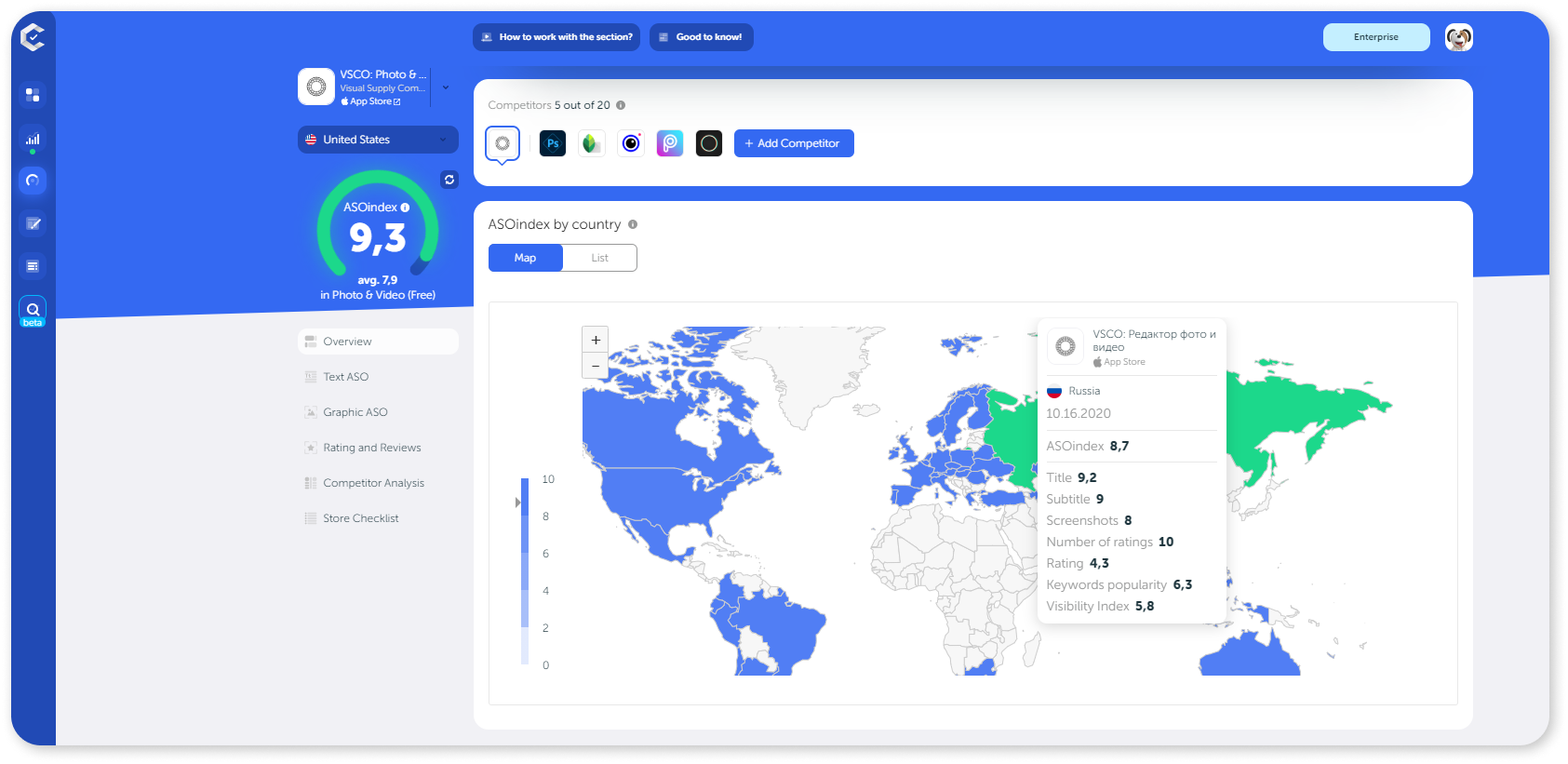 → Read more about this in our article What is ASOindex Overview?
The Text ASO section shows statistics of queries included in the major text elements found on the app page like Title, Short Description, or Full Description. On the Indexing tab, you can look at the change in ranking by keywords for the selected period.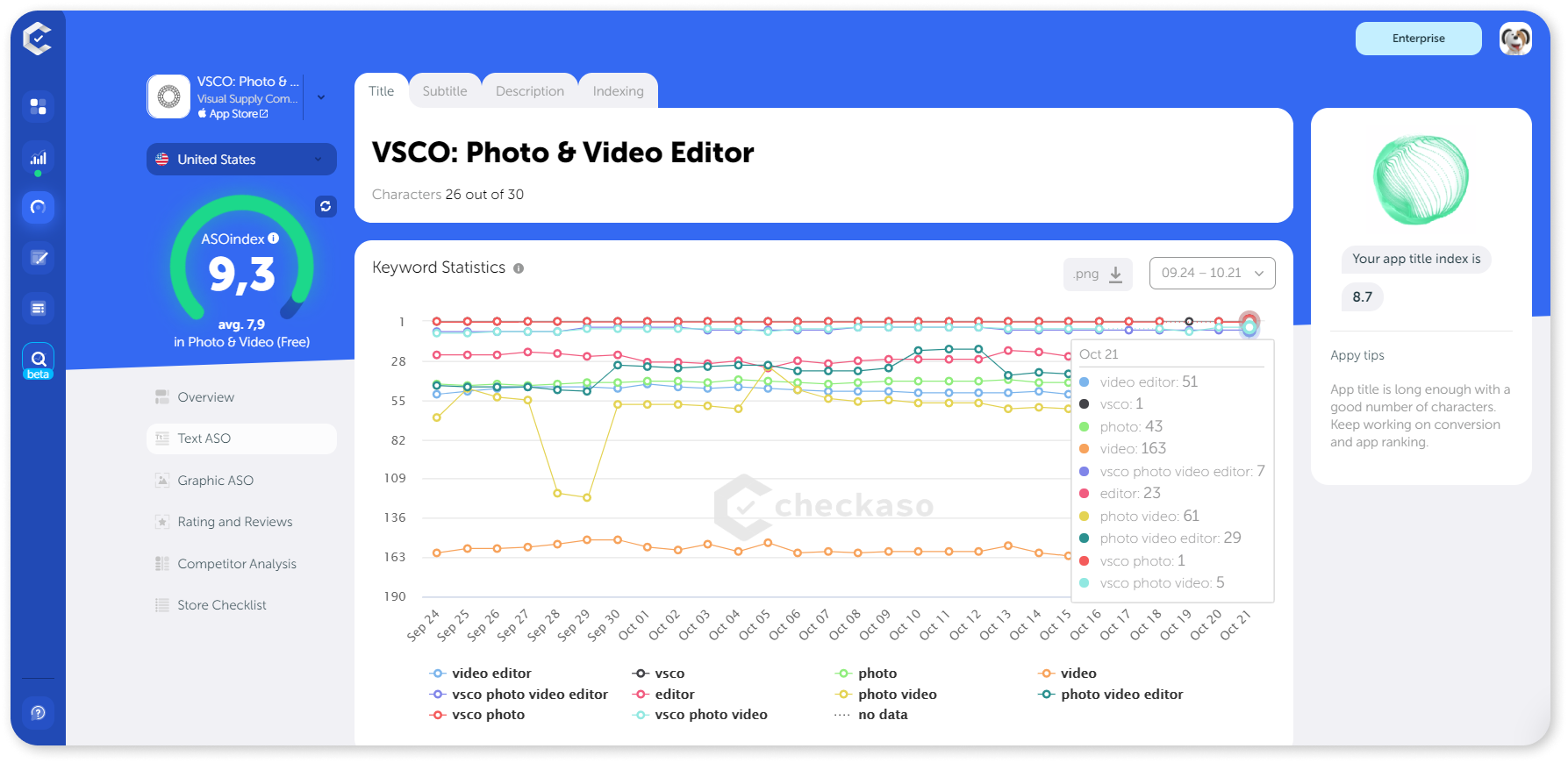 → Read more about this in our article Text ASO
The Graphic ASO section shows what the app page graphics will look like on different devices.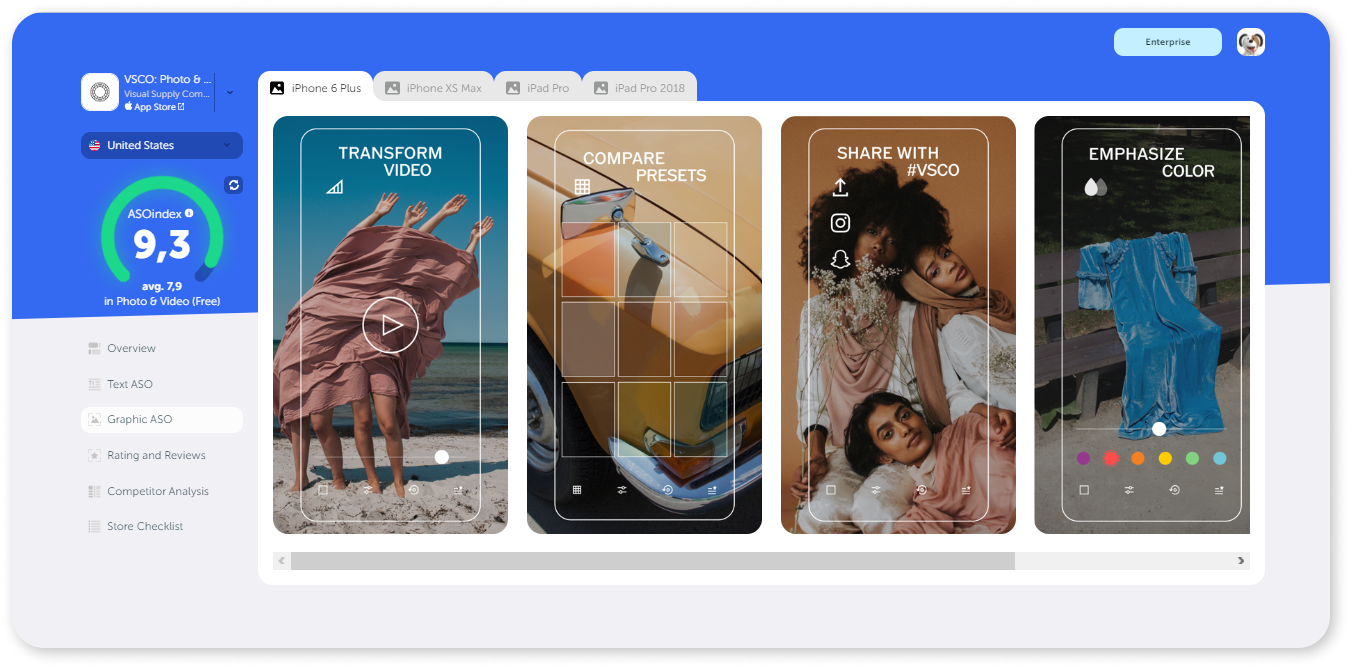 → Check more information about Graphic ASO here
The Rating and Reviews section provides an overview. It can be used to study the change in rating and the number of positive and negative reviews for the selected period.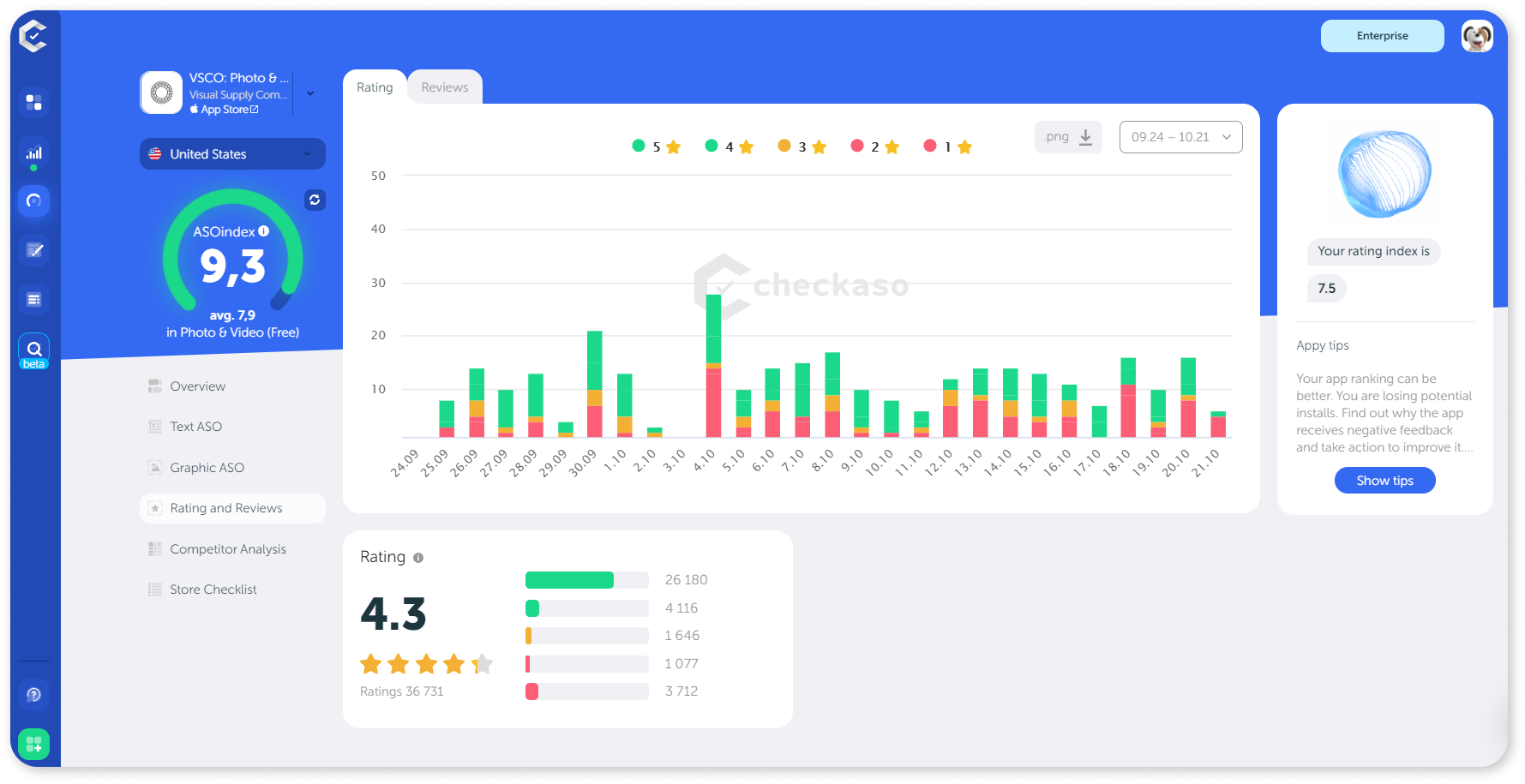 In the Reviews section, you can filter feedback by star rating. You can find more details related to ratings and reviews on tabs with the corresponding names in the Analysis section.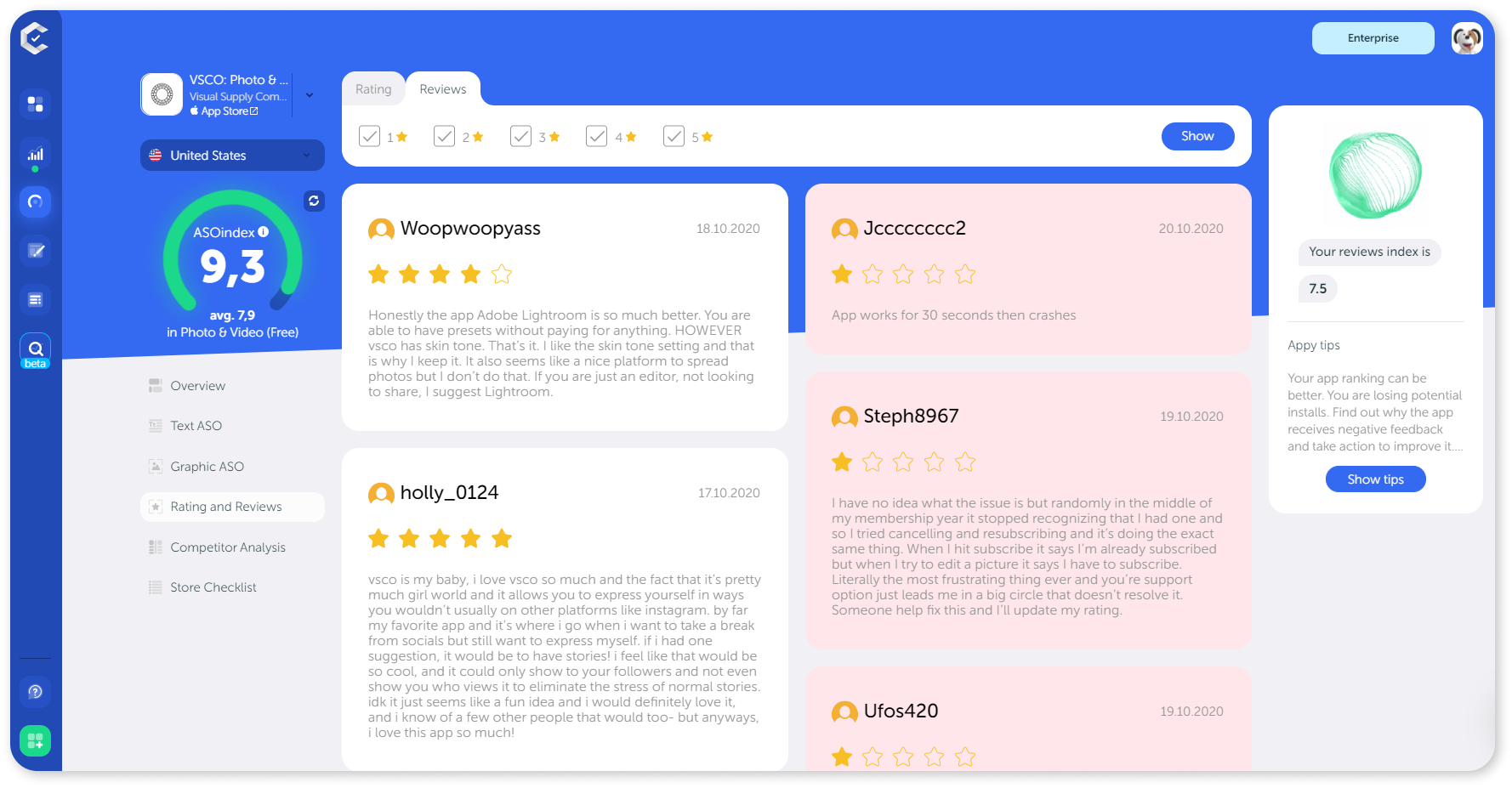 → Feel free to read more about them here: How to work with the Rating and Reviews
ASO Editor
Text Editor is the main tool in this section. Here you can edit text elements on the app page based on keywords analysis (Search Volume, ranking by keyword, number of indexed apps). The details are available in English and Russian.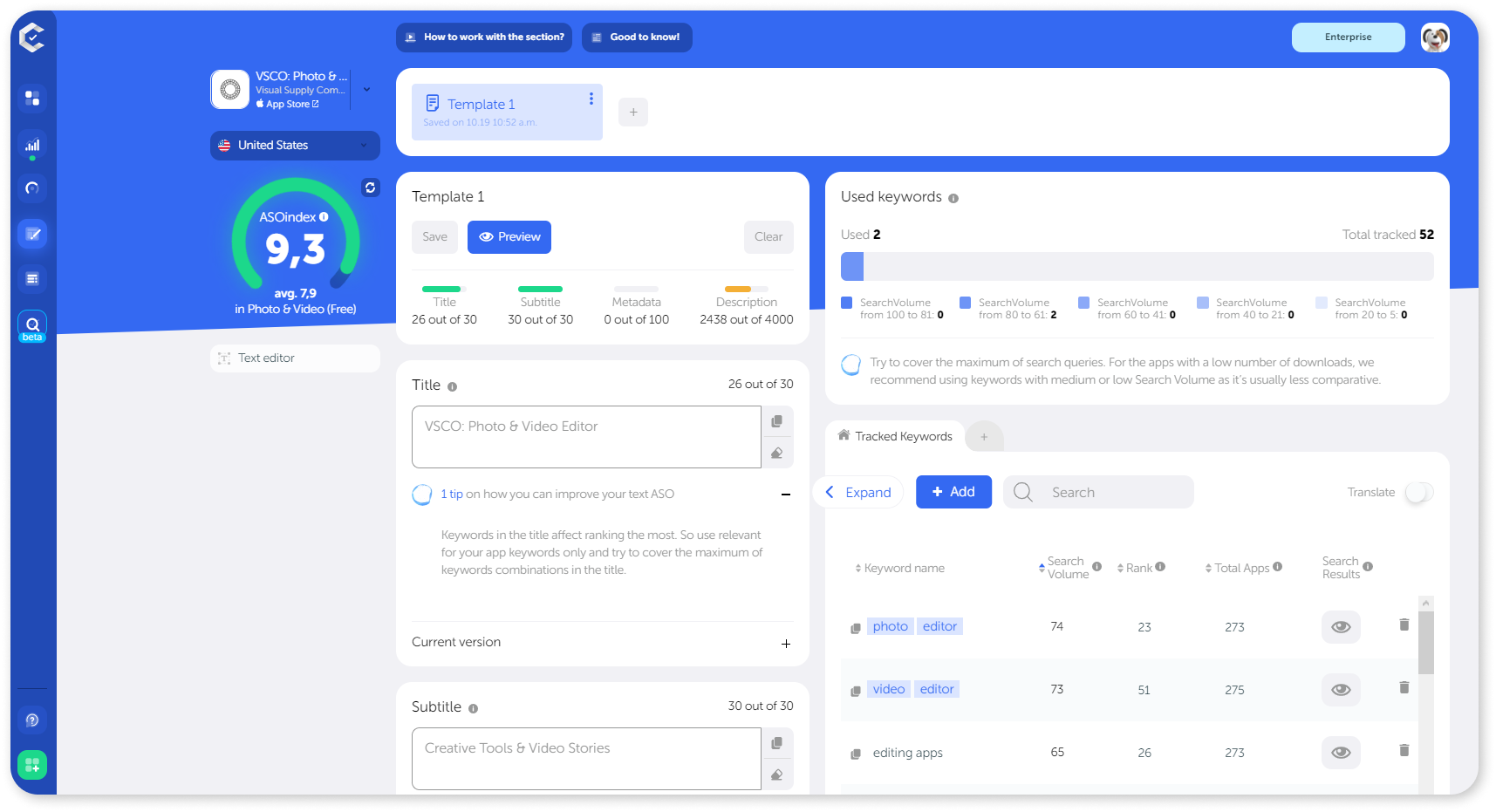 → Read more about this in our article How to work with a Text editor?
Notification Center
In this section, you can customize reports by selecting apps, sections, and notification frequency. You can add up to 20 email addresses to your mailing list. Report history is available too as all data is saved.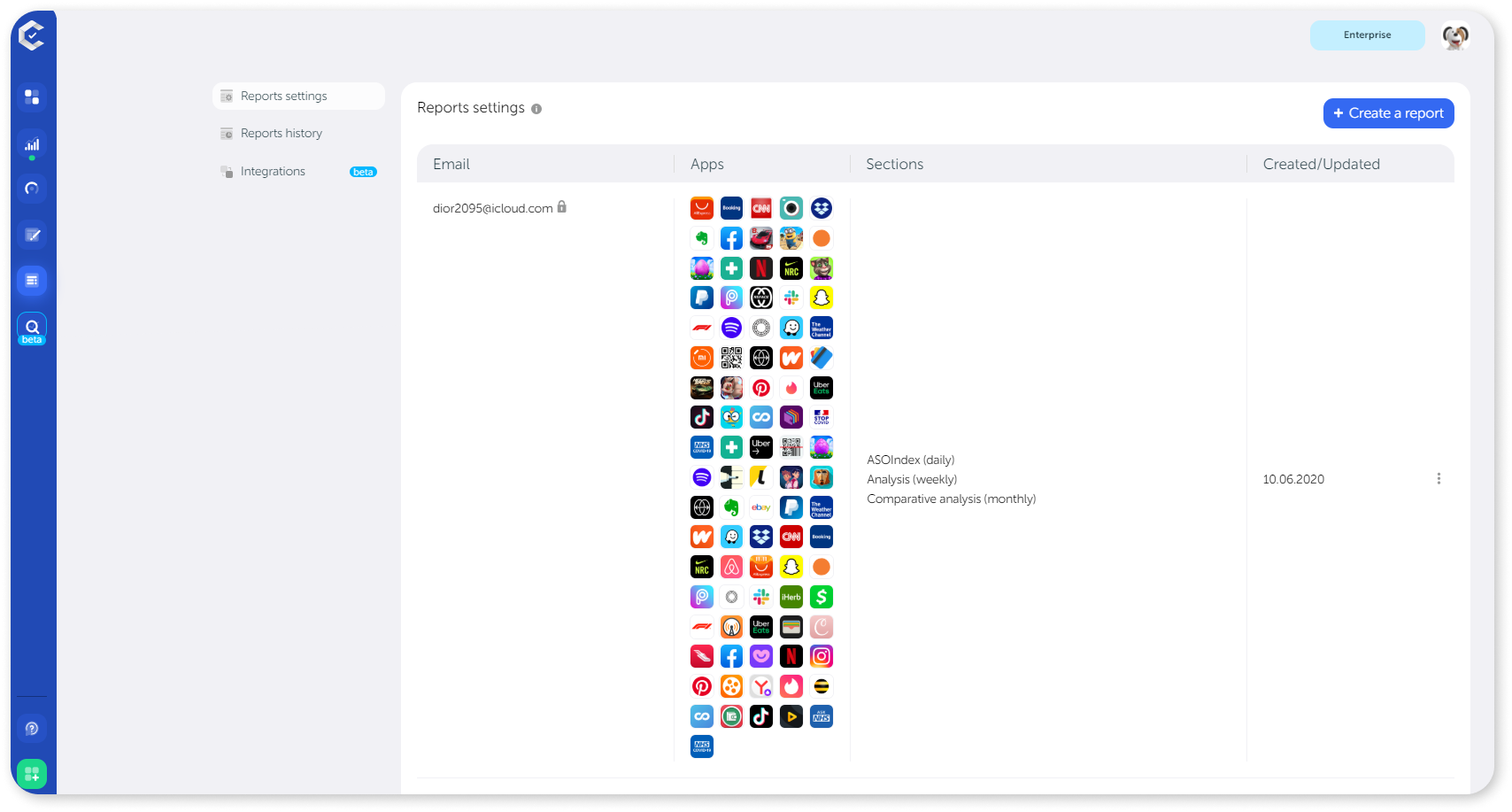 → Read more about this in our article Notification Center