ASO Overview is a new Checkaso section with 9 tools. Search Visibility Index, an option to compare with that of your competitors, percentage, and number of overlapping keywords, number of keywords by app positions, tracked keywords movements, tables with 'best' and 'worst' keywords in terms of ranking, metadata tracking, and rating changes.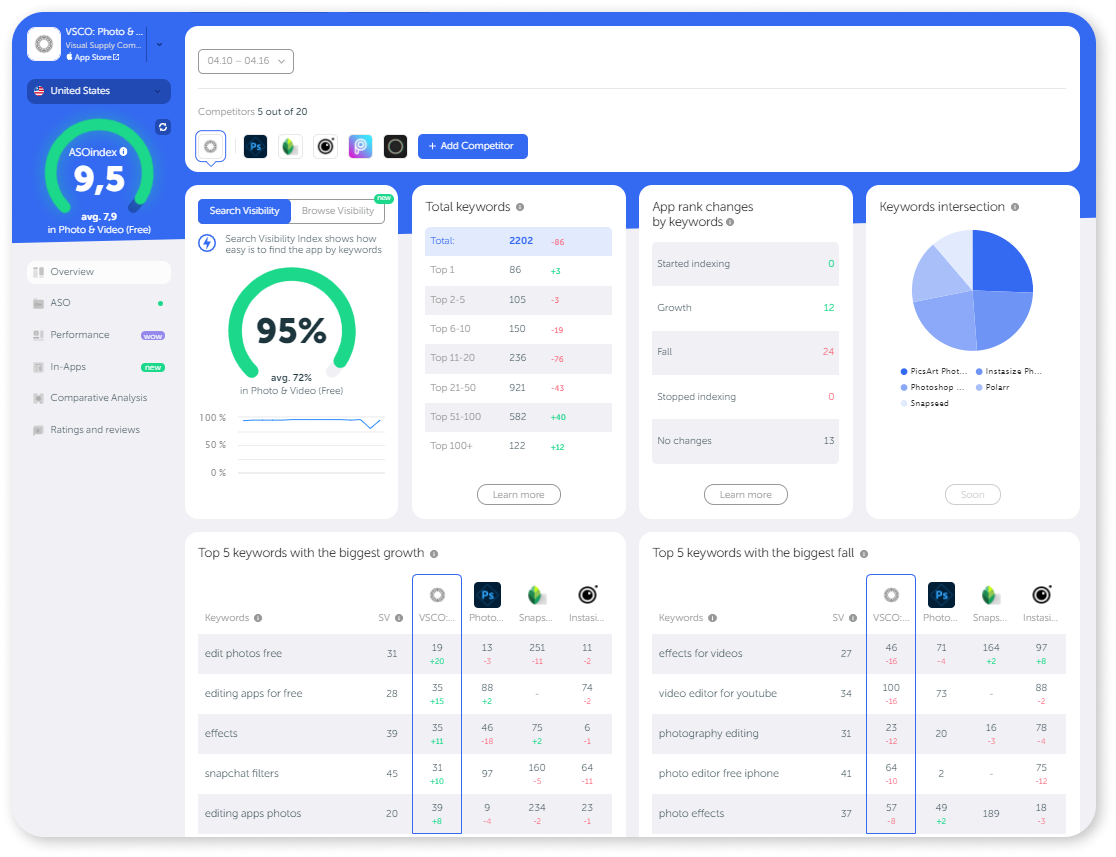 Search Visibility Index
This index makes it possible to assess app visibility. It's about ranking efficiency. How high has your app made it by major keywords? Is it easy for users to find you? Keyword number, keyword popularity, and ranking by keywords will be taken into account when calculating this value. Here's the average app visibility index by category.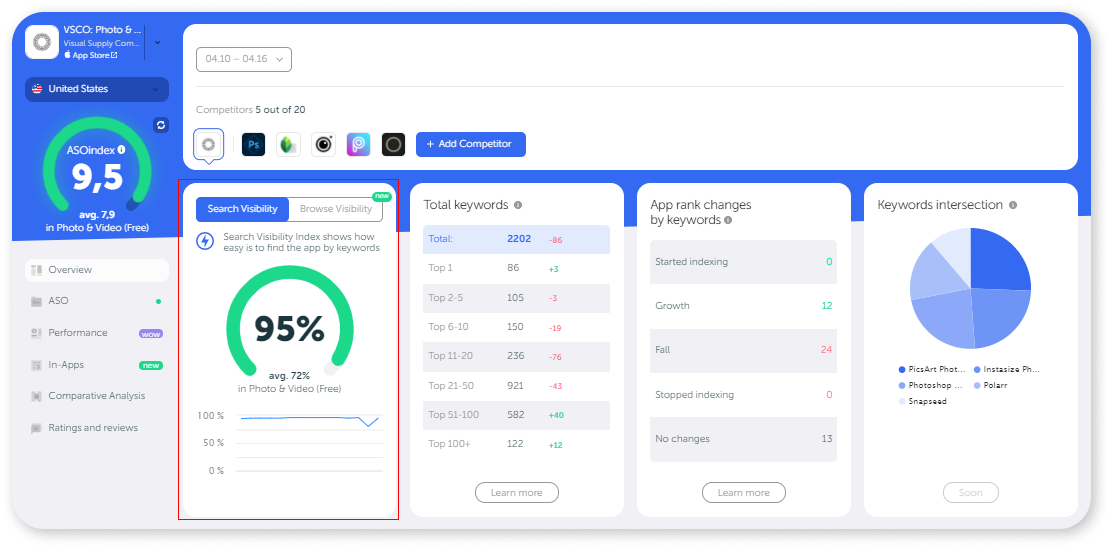 0-29% – no visibility. Oops, do you really exist? You need to leap forward.

30-49% – low visibility. Oh, users can't find you in daylight with a flashlight. Try boosting your ASO.

50-69% – good visibility. You are easy to find, but you can do better.

70-99% – excellent visibility. Wow, you're in everyone's plain sight. That's what we strive for.
The chart below the index shows data history for the last 7 days. Hover over the chart to look at Search Visibility Index for a certain day.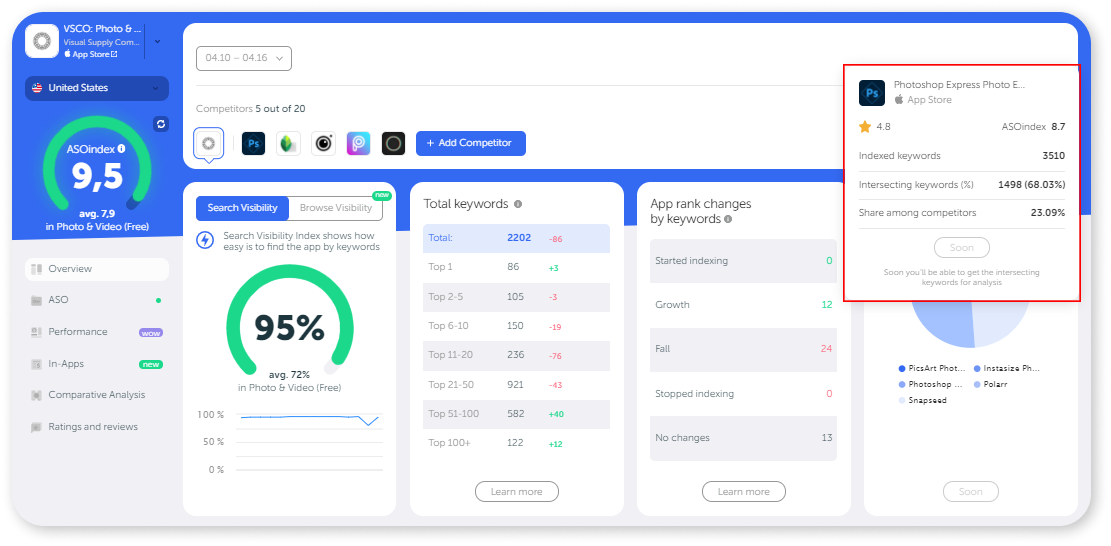 Browse Visibility Index (BVI)
Browse Visibility Index is a new index that shows the level of app visibility in the Browse/Explore channels:
Say, you've changed tags and worked on your app description on Google Play using Google Natural Language, and you got a 0.99 Confidence Score. Your goal was to increase impressions in Similar Apps. An increase in BVI will be a sign that the iteration is successful.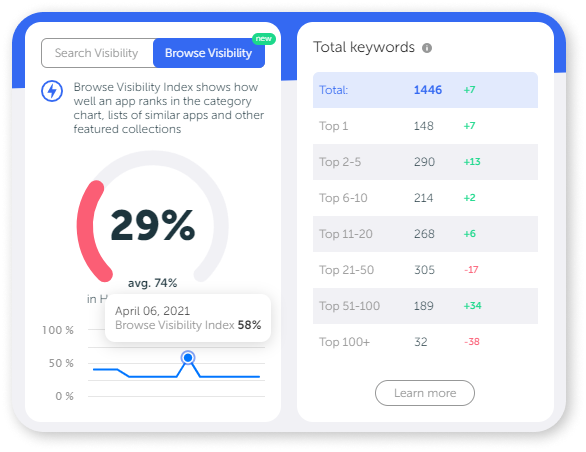 BVI will help you quickly detect and record changes in app visibility after each iteration or update, compare your app with those of your competitors, and track your progress using benchmarks by category.
Total keywords and App rank changes by keywords
Total Keywords shows how many keywords your app is indexed by in different positions. In this case, you can track how you rise and fall.
App rank changes by tracked keywords section are about the dynamics. There's a summary of the keywords you are following. No progress will go unnoticed.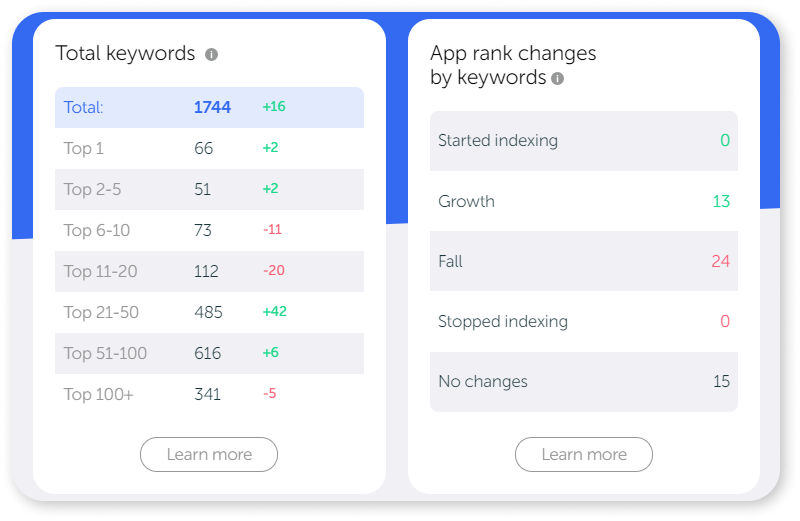 Keywords Intersection
Hover over the chart to see how many intersecting keywords and share among competitors you have. Everyone will be happy: the numbers for both ASO specialists and marketers.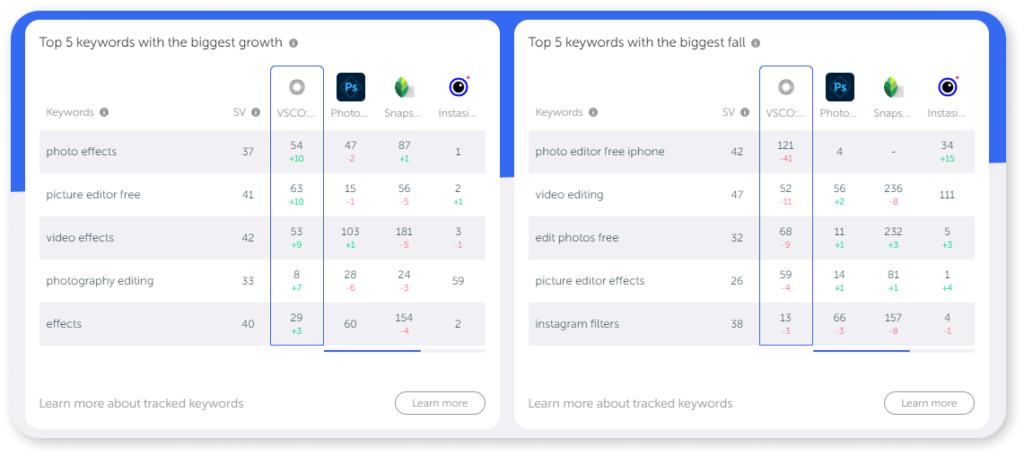 Search Visibility Index by competitors
This is a pivot table with your Visibility Index and that of your competitors. Feel free to draw some analogies. If you hover over any app, you will see its rating, ASOindex, Search Visibility Index, and Search Visibility Index Benchmark by category.

Competitors' updates
Stay on top of your competitors' ASO events. Track changes in metadata like icons, screenshots, videos, titles, subtitles, full descriptions, categories, or providers. Hover over the gray circle to see the list of changes.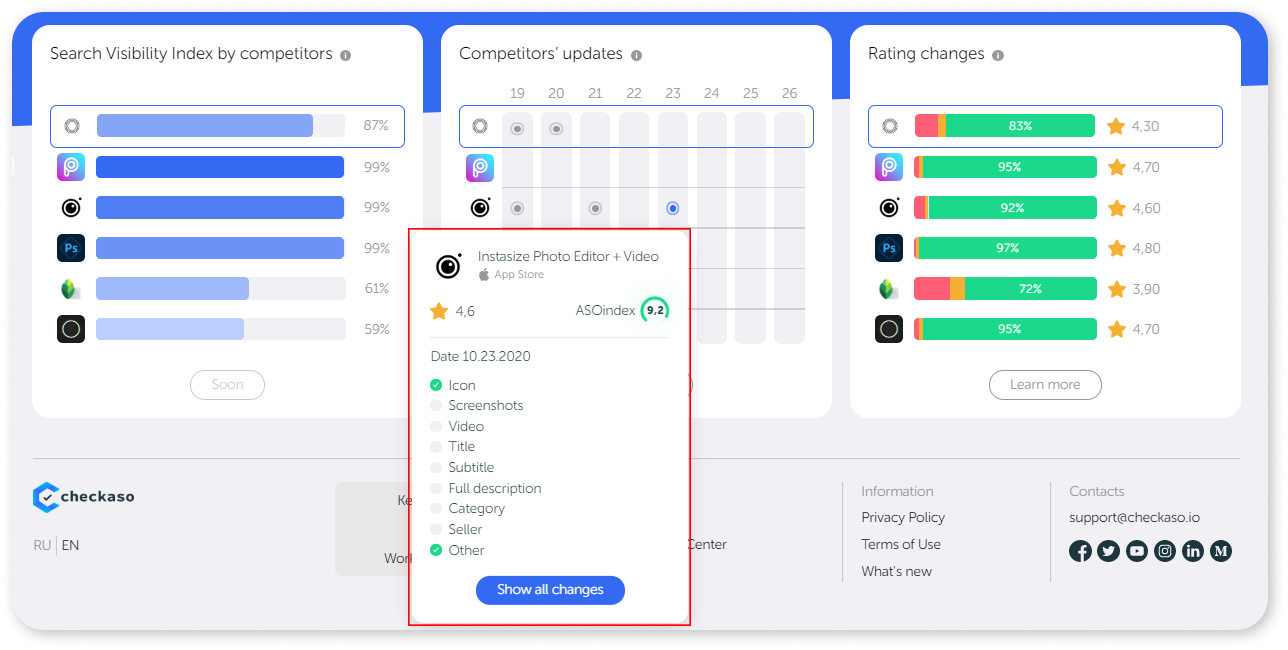 Rating changes
This table shows the current average app rating. Hover the cursor over the column for detailed estimates.